First Lutheran was founded by Norwegian immigrants in 1872. A desire to reach out and help those who are less fortunate has been a part of First Lutheran's mission from the beginning. The congregation served mostly the immigrant community during the first decades of its existence. The original name was The Norwegian Evangelical Lutheran Congregation, and later changed to First Norwegian Lutheran Church.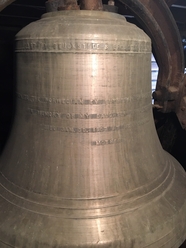 Over the years the church has been served by numerous pastors. It was in 1876 that the congregation began a building program and erected their first church at the present location, 822 Douglas Street, Alexandria, MN.
In 1907 pastor B.A. Benson was the first pastor to hold English services. The old church building was torn down and a new church was erected for the cost of $3,797.87, minus the pews.
1922 women were given "the same rights as men in the church affairs."
The former Governor of Minnesota, State and U.S. Senator Knute Nelson and his wife, Nicolina, were members of First Norwegian Lutheran Church. Upon his death in 1923, it was learned that Senator Nelson named the Norwegian Lutheran Church of America as a beneficiary of his estate which set forth a plan to eventually have his Alexandria farm and home turned into a home for the aged. (This was to become the present day Knute Nelson Home in Alexandria.)
In 1927 the council minutes were written in English for the first time, this was also the year the name was changed to First English Lutheran Church. It was decided to have all services in English…after much discussion.
The congregation continued to grow over the years and expanded its outreach to the community. 1948 the church building was sold to the Mission Covenant Congregation and the physical building was moved to 13th Ave West and Fillmore Street, Alexandria. A new church building was built on the same site, was completed and dedicated in 1950.
Over the years First Lutheran has been an effective and meaningful presence, through worship, outreach ministry in the community and beyond. It is a congregation that has not stood still, but continues to see ways to grow and serve others.